Press Releases
ATE - the latest
"Brakethrough Technology": Continental presents new ATE brand image
Premium brand ATE to be strengthened and internationalized
New image with more emotional pictorial language and unusual motifs
ATE logo to be preserved as a symbol of the innovative history of the company
Frankfurt, December 2016. The international technology company Continental is reinvigorating the traditional ATE brake brand with a new claim, new imagery, a new design and a revamped online presence. "We're sending a clear signal with our remolded presentation: ATE is a pioneer in brake products and will remain so in the car of the future too. Our strong premium brand helps our partners to hold their own in a challenging competitive environment", explains Peter Wagner, Vice President Independent Aftermarket and Director Continental Aftermarket, highlighting the advantages for garages and dealers.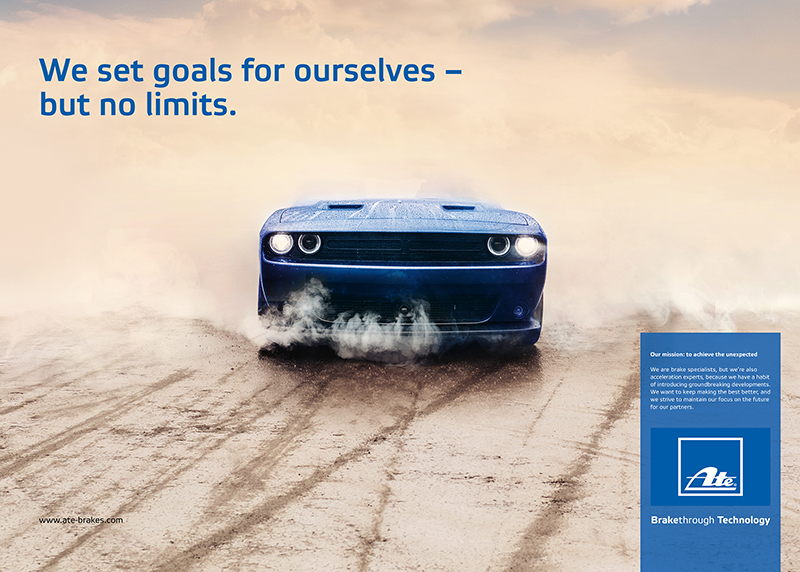 Emotions and unusual motifs: the traditional ATE brake brand presented in a new design.
Photo:  Continental
The new claim "Brakethrough Technology" summarizes the most important characteristics of ATE. This is a pun expressing experience, innovativeness and expertise in braking systems – the very characteristics that have made ATE a brand that's trusted by its users in garages all over the world. "With the new claim we're making a promise to our customers: we're working passionately to accomplish the best for them at all times", says Peter Wagner.
Surprising and unusual: new pictorial language to inspire emotions
The new pictorial language reinforces this effect. In a contemporary, bright and spacious look with warm color tones, it puts unusual motifs at the forefront. The traditional blue will however always remain present in the various image elements. "With the new imagery we're leaving the garage and entering the world of automotive high-performance", explains Peter Wagner. "In so doing, we're reaffirming our position as a leading supplier of original and spare parts and underscoring our idea of a premium brand." The ATE logo familiar to drivers and experts alike remains unchanged, because it stands for a corporate history stretching back more than 100 years, during which ATE specialists continually came up with groundbreaking inventions and set the standards.
The new design is tailored in particular to the requirements of digital media. The reworked website at www.ate.de is already online and responsive, i.e. suitable for presentation on mobile devices. However, the updated images are already being used in the print media, for example in ads and brochures. In the coming months, Continental will be launching the new brand image in other markets.
Contact:             
Christopher Schrecke
Head of External Communications
Continental
Business Area Vehicle Networking and Information
Business Unit Commercial Vehicles & Services
Sodener Straße 9
65824 Schwalbach
Germany
Phone: +49 6196 87 1605
christopher.schrecke@continental.com
Downloads