Press Releases
ATE - the latest
ECE R90 – 90 percent of ATE brake discs sold already comply with the quality standard
Regulation enters into force in November – inspection of ATE products started early
Legislation will stipulate safety quality standards for replacement brake discs
ATE brake discs have always been manufactured with OE-comparable quality
Frankfurt, September 2016. Disc brakes of the ATE product brand from the Continental technology group already meet the technical requirements of ECE R90, even before the regulation is introduced. Before the European quality standard for brake discs comes into force in November 2016, around 90 percent of all discs sold by ATE will have the demanding ECE seal of approval – and this percentage will again rise significantly by early 2017. This makes Continental one of the first companies to offer the industry a comprehensive, ECE-certified portfolio of disc brakes.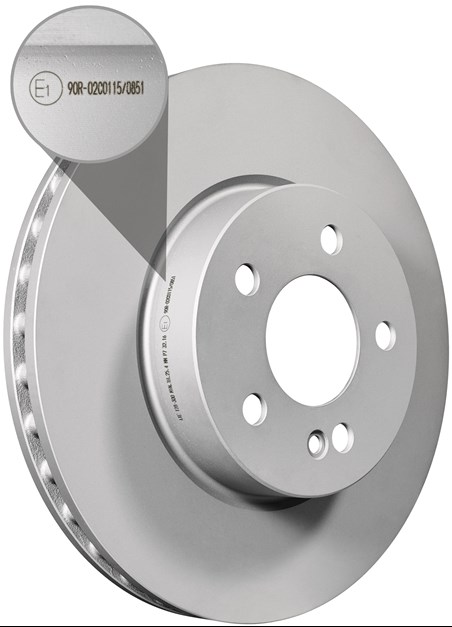 Most ATE products from Continental have already received the ECE seal of approval – from November 2016, the seal will be compulsory for brake discs.
Photo: Continental
Extensive tests confirm product safety
Looking to the future success of its products, ATE began carrying out the necessary tests early. In stringent tests, independent experts so far intensively examined and tested more than 1000 item numbers, subsequently confirming that they are functional, safe, and ECE-conform. The tests included 150 brake applications to bring the speed of the vehicle from maximum down to 20 km/h. The discs' crack resistance was then examined on an inertia dynamometer.
As a premium supplier, Continental was well prepared for the legal regulations. Extensive performance testing has always been an integral part of the company's standards. "We are an OEM for the major automotive brands, so we only use advanced OE materials and manufacture our products in comparable OE quality – and the same goes for our ATE brake discs in the aftermarket," says Peter Wagner, Vice President Independent Aftermarket and Managing Director of Continental Aftermarket. "The ECE seal of approval officially confirms our high quality standards."
The ECE regulation will ensure consistent standards in the aftermarket, since spare parts for brakes must then offer the same features as OE products. ECE R90 has applied to brake pads in the aftermarket since 1999, but from November 2016, it will also come into force for brake discs for newly registered vehicle models – and the regulation extension will have even stricter minimum requirements. Buyers of brake products in the independent aftermarket can then be sure that they are getting products manufactured to OE quality standards. Yet another advantage of the ECE seal of approval is that it will largely replace the previously required General Operating Permit for vehicle spare parts, so automobile drivers will no longer have to keep a copy of the permit in the car.
Continental is fully committed to this innovation from the United Nations Economic Commission for Europe, because, as Wagner says, "The extension of the regulation will be yet another hurdle for fake and shoddy products in the markets of the ECE countries. We are convinced that the quality standards set by the Commission will sustainably ensure greater driving safety."
Contact:             
Christopher Schrecke
Head of External Communications
Continental
Business Area Vehicle Networking and Information
Business Unit Commercial Vehicles & Services
Sodener Straße 9
65824 Schwalbach
Germany
Phone: +49 6196 87 1605
christopher.schrecke@continental.com
Downloads